Baby Plastic Wardrobe
Having a baby is a blessing for every family, but the stress of making decisions on baby items, particularly the baby wardrobe, is enormous.
When selecting baby items, you must exercise caution because there are several factors to consider and keep in mind before making your selection.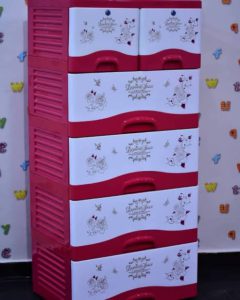 Because the baby's hygiene is of the utmost importance, proper storage must be available. As a mother or mother-to-be, having a wardrobe is essential, and there are various types of wardrobe for babies on the market.
Are you tired of strewn-about-the-room-with-baby-things? Have you considered where you will store your baby's belongings? Or are you tired of misplacing items as a result of the poor organization?
Here is a comprehensive list of different baby wardrobes available on the market, their prices, and guidelines to consider when selecting them.
Prices of Baby Plastic Wardrobe in Nigeria
The number of mothers purchasing baby wardrobes is increasing daily want things that will make our lives easier. Nigerian stores are now brimming with baby items, and the closet is no exception.
There are various designs of baby wardrobes available on the market, and their prices vary. We have ones made in Nigeria as well as some made outside of the country.
Baby wardrobes differ from regular wardrobes in that they are fancier and more beautiful.
Let's look at the prices of the various baby wardrobes we have one after the other.
1. N4,200 – N8,000 for Mobile Mama Love Wardrobe
2. Plastic Wardrobe in 4 Steps N5,000 – N7,500
3. Medium 4-Tier Wardrobe: N5,500 – N8,300
4. N7,600 – N10,000 for a Universal Chef Wardrobe
5. Sweet Home Drawer: N10,000- N16,000
6. N9,000 – N20,000 for Avantix 4-Drawer Wardrobe
7. N40,000 – N55,000 for a Mother Care 4-in-1 Wardrobe
8. N40,000 – N60,000 for a universal 5-step wardrobe
9. N50,000 – N60,000 for a Disney Character Wardrobe
Kinds of Baby Wardrobe in Nigeria
When purchasing baby wardrobes, it is critical to understand the various types of baby wardrobes available on the market. Wardrobes are typically made of four materials: wood, metal, plastic, and fabric.
Let's go through them one by one.
Wooden baby Wardrobe
In Nigeria, baby wardrobes made of wood are common. They are usually made to order. The parents will go to the maker and tell them exactly what they want, and it will be built to their specifications. Some are readily available for purchase in the market. Wooden wardrobes are made from various types of wood and come in a variety of beautiful designs.
Baby Wardrobe Made of Metal
Another type of baby wardrobe available on the market is the metal baby wardrobe. Although they are not common in Nigeria today due to their weight. The ones you'll see are a mishmash. It is made of metal and wood, brass, or a combination of these materials. The thing about metal wardrobes is that they are long-lasting.
Plastic Baby wardrobe
Plastic wardrobes are the most common type of wardrobe found with a mother in Nigeria. It is popular because it is portable and inexpensive. This type of wardrobe is available in a variety of designs and sizes on the market. There are several brands of plastic wardrobes for babies on the market. When the baby is a teenager, you can pack it, store it, and use it when another baby arrives.
Fabric-Wrapped Baby Wardrobe
Fabric-based wardrobes are now common in Nigeria. Adult wardrobes and cabinets, in addition to baby wardrobes, are made from a variety of fabrics. Fabric baby wardrobes are always very beautiful and charming. They are also less expensive than metal and wooden wardrobes. Fabric baby closets are widely available in the market.