Jumia is the leading e-commerce company that provides an excellent shopping experience for it's customers across Africa. From Nigeria, Ghana, Kenya, Algeria, Egypt, Ivory Coast, Morocco, Senegal, Tunisia, and Uganda.
According to Wikipedia and many other publishing platforms across the web, Jumia has served so many customers in more African countries.
Jumia is a Pan-African technology company that is built around a marketplace, logistics service and payment service. The logistics service enables the delivery of packages through a network of local partners while the payment services facilitate the payments of online transactions within Jumia's ecosystem. It has partnered with more than 100,000 active sellers and individuals and it competes at various levels, indirectly with retailers such as Jiji and Maybrands limited, and is a direct competitor to Konga in Nigeria, and Amazon and Noon in Egypt.
The Jumia Loan is one of the best loan services average Nigerian can apply and use for business purpose. Jumia as a leading e-commerce company in Africa, helps grant loans to individuals to be able to pay bills and any other financial transactions.
In our today's article guide, I would educate you more about Jumia loan with How to obtain Quick Loan from JumiaPay App at ease.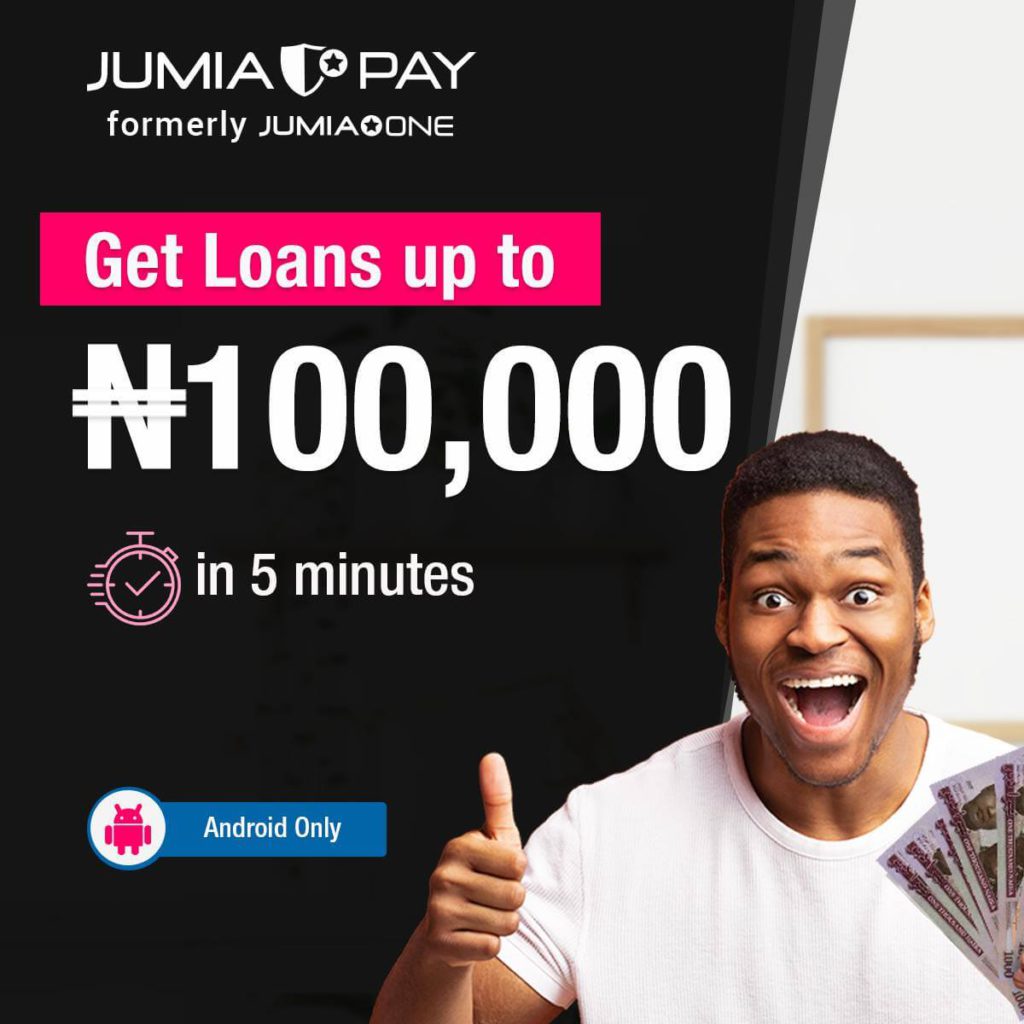 Be it an individual or any other, you have the chance to apply for the Jumia loans to pay all your bills, and you would need the step by step guide as provided by Nigerian Insider.
Type of Jumia Loans To Obtain
There are varieties of Jumia Loans you can apply and get credited in Nigeria. These Jumia loans are;
Payday loans – This loan functions like an overdraft and expected to be repaid upon the next paycheck of the borrower. It focuses at providing financial assistance to employees of any reputed organization.
Education – These loans are meant to aid educational expenses. It is actually for those pursuing their academics.
Business – Specifically designed for business owners. This loan was created to help businesses cover cash flow payments and aid overall transactions
How to Apply for Jumia Loan
As we have given you much brief about the Jumia Loans for average Nigerian individuals, here is how you can apply for the Jumia Loan in Nigeria without passing through any stress.
These are some of the simple and easier process to follow in applying for the Jumia loans in Nigeria.
Download and install the JumiaPay app via Google Play Store or JumiaPay Website

Click on the app and complete the registration process

Then tap on loans to access all the information needed for the system to process your loan request

Now, head to your email address to confirm your mail and complete loan request

After submitting your correct details for Jumia Loan, wait and get credited.
Jumia will credit the amount to your bank account after approval of your loan, per your documents and information submitted during the registration process.
Why You Should Consider Jumia Loan?
In Africa, Jumia leads as the biggest retailing e-Commerce platform.

Jumia serves as one of the biggest investors in Nigeria

Application for Jumia loan is so simple with the application process

Application is done within few minutes

Collateral and paperwork is not required

Jumia loans has the lowest rate in Nigeria.
How Much Loan Can I Get From Jumia?
As regards to how much an average Nigerian can apply from the Jumia Loans, a person with good credit history may be able to apply for a larger amount of N100,000 in less than 5 minutes from JumiaPay.
In summary, Jumia company has since expanded its operations to not only online shopping, but other aspects of which the Jumia Loan is one of those diversifications. Apply for a loan today and get credited into your bank account in Nigeria