In this write up, we are going to give you a complete information about Oyedepo net worth.
Pastor Oyedepo known in real life as David Olaniyi Oyedepo is a Nigerian pastor, author, investor, architect, businessman, philanthropist and entrepreneur who is making waves in the Nigerian space.
He is mostly recognized as the head pastor of the Megachurch Faith Tabernacle, a non-denominational church located in Ota, Ogun State, Nigeria and also Winners' Chapel International.
You might probably have heard about this man and the impact he's making in various spheres of life in Nigeria but have you wondered how much he is worth, according to Forbes?
Well if you have ever thought of this, find out the Oyedepo net worth from here.
At Nigeria Insider, our criteria for ranking net worth is closely related to that of Forbes. The factors considered include but not limited to businesses owned, assets, family (wife and children), lifestyle, investments and many more.
Stay with me as I bring you the source of Pastor Oyedepo's money and how wealthy he is.
---
David Oyedepo's Net Worth
Oyedepo's has an estimated net worth of $150 million according to Forbes in 2011. Although he has not come out himself to verify this, a lot of publications have been made around this figure.
---
About Pastor Oyedepo
Real Name: David O. Oyedepo
Nationality: Nigerian
Place of Birth: Osogbo, Nigeria
Date of Birth: 27th September, 1954
Age: 66
Spouse: Faith Abiola Oyedepo
Early Life
David Oyedepo was born in Osogbo, Nigeria on the 27th of September 1954. His mother was a Muslim and mother a Christian. Growing up from a mixed religious family would have been a daunting one. He was however raised mostly by his grandmother who introduced to him Christian virtues.
From there, moving forward, he found God and became a born-again Christian.
Lifestyle
Although he owns private jets and luxurious cars, he does not flaunt his wealth mostly on social media like how the young rich guys do. He mostly spends his time preaching the good message to his congregation. Aside that he makes some business visits to ensure all his firms are operating well.
---
David Oyedepo's businesses & source of income
Bishop David Oyedepo is known for several investment in many sectors. Aside being a full-time man of God, he doubles as a serial entrepreneur venturing into so many businesses. Per our findings, we can confirm that Oyedepo is involved in several businesses. See them below.
Real Estate
He is the founder and owner of the Canaan Land. It is a multi-billion naira estate project developed by the head Pastor of the Living Faith Church, Pastor David Oyedepo.
It is a mortage scheme which gives the church members and church staff about 20 – 30 years to pay up whiles occupying the houses.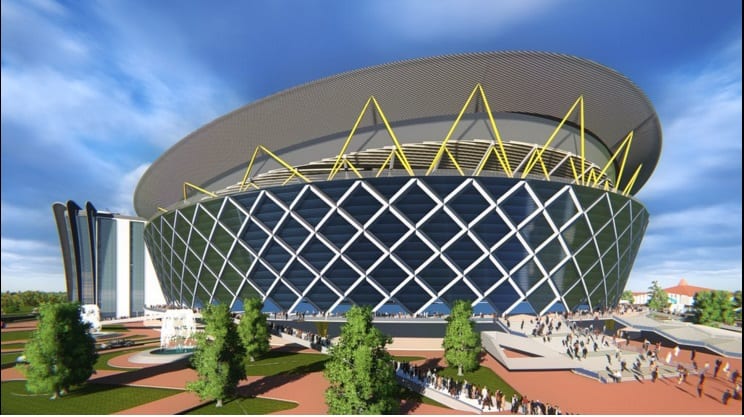 Canaan city is a state of the art modern real estate project that house over 15,000 housing units, police stations, shopping malls, pharmacies, parks and gardens, sport centers, power plants, swimming pools among other facilities.
On completion, it is expected to be the biggest single housing estate in Africa. Oyedepo has really invested in this project and is expected to make huge returns going forward.
Education
He has made significant investment in the educational sector of Nigeria by establishing the Covenant University and Landmark University.
Covenant University is a growing, dynamic vision-birthed, vision driven University, founded on a Christian mission ethos and committed to pioneering excellence at the cutting edge of learning. This University was started by the presiding bishop of the Faith Ministries International, Bishop David Oyedepo. The school currently has a population of about six thousand (6,000) students and faculty members.
Landmark University
Another investment he's made in the education sector is Landmark University also located in Omu-Aran, Kwara State, Nigeria. This school also has a student population of about three thousand (3,000).
Kingdom Heritage Model School Regional Clusters
This is a chain of primary and elementary schools spread across Nigeria. It falls under the Education Commission of Oyedepo's ministry. Educations Commission's network of Nursery and Primary Schools has over 156 schools spread across the entire country.
Faith Academy
This is a missionary school started by Oyedepo some years back. The sole vision and aim of this school is to train youth in the ministry of God.
---
Book publishing
Oyedepo's church operates a fully-fledged state of the art publishing house called Dominion Publishing House which was started on December 1992. This firm has published over 70 Christian, inspirational and motivational books, magazines and many more.
Dominion book store sells Christian literature, Bibles and also provide other media services. He has also authored over 60 books. Sales from these books makes him money which adds up to his net worth.
---
David Oyedepo's Assets
His church has four private jets and buildings in several international locations, including the United States and the UK. All his businesses form part of his current assets as they generate income for him and the church.
He also has a Challenger 605 with registration N633WM and a helicopter with registration-5N-BQY used for short trips to Landmark University Omu Aran in Kwara from Lagos or from Ota to the Lagos Airport and on a few occasions to Abuja, etc amongst a host of other cars and properties scattered across strategic locations in the country.
---
David Oyedepo's Family
He is married to Florence Abiola Akano with four children namely David Jr. Isaac, Love and Joyce. His children are head pastors of the Faith Living Church in different parts of the world.