This article gives you a complete informational guide you may need to know about how to make payment for your GOtv subscription with mobile phone and mobile money payment options.
In Nigeria, GOtv is commonly used by the Nigerian community as paid-TV — enjoying moments of multiple channels from Entertainments, Movies, Sports, Jokes, etc.
Just like DStv In Nigeria, GOtv is another paid-subscription TV for individuals to subscribe and enjoy moments of entertainments and fun at home.
Whether you love sports, movies/documentaries, telenovelas, etc. GOtv decoder is going to meet all your needs at a go. With a GOtv decoder, you get access to television channels that shows all the English premier league games, UEFA Champions league, and other European leagues. This is a good news for those who love sports.
GOtv is one of best decoders that gives you the access to interesting local and international content from the comfort of your home at very affordable prices.
GOtv decoder packages in Nigeria
These are the GOtv prices per packages for you, and you can reach how for any assistance.
| | | |
| --- | --- | --- |
| Package | Price | Channels |
| GOtv Lite | N400 | 25 |
| GOtv Value | N1,250 | 43 |
| GOtv Plus | N1,900 | 67 |
| GOtv Max | N3,200 | 75 |
| GOtv Mobile Access | N630 | |
GOtv allows you to also pay for your subscription in your city, street or any nearby GOtv shop available in Nigeria.
I would love to give you the steps and guide about How To Pay For GOtv Subscription With Mobile Phone In Nigeria for 2021.
How To Pay For GOtv Subscription With Mobile Phone In Nigeria
This part from Nigeria Insider gives you more insight of how to pay for your GOtv subscription via mobile phone in Nigeria for 2021.
How To Pay Using Online Payment Services
Now, you can use online payment service providers to pay for your GOtv subscription via your mobile phone in Nigeria. Some of these top payment providers for paying for your GOtv monthly subscription are: JumiaPay, KongaPay, eTranzact, Paga, PayU, Quickteller, etc.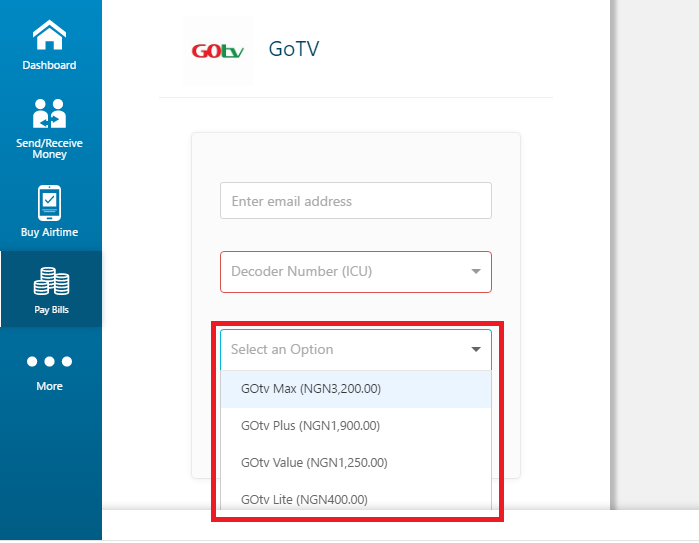 Visit any payment service provider of choice, create an account and navigate to the "Pay Bills" section. Select your cable TV (DStv or GOtv) as appropriate. Proceed to enter your details and decoders details (Smart card number for DStv; IUC number for GOtv), select what bouquet/package you'd love to subscribe, and then proceed to pay.
How To Pay For GOtv Using Banking Apps
There is possibility to pay for your GOtv subscription directly from your bank app easily in Nigeria. Most banks in Nigeria have functional (web and mobile) app by which their customers can directly send and receive funds, pay bills and make purchase for airtime for their mobile phones from.
Navigate to the "Bills" or "Pay Bills" section of your bank app and you should see a provision for cable TV payment. Select which of the TV service you want to pay for, enter your digital TV details, select the bouquet/plan you want to purchase and pay.
How To Pay For Your GOtv Subscription Using Self Service
Multichoice runs an "Eazy Self Service" platform for both the DStv and GOtv platforms. The Eazy Self Service platform allows you manage your DStv/GOtv accounts online, clear error codes, pay for packages and upgrade your subscription. The Eazy Self service platform even allows you pay for someone else.
For GOtv users, visit the payment portal on the GOtv Eazy Self Service platform, enter your GOtv account details (IUC number) and proceed to pay.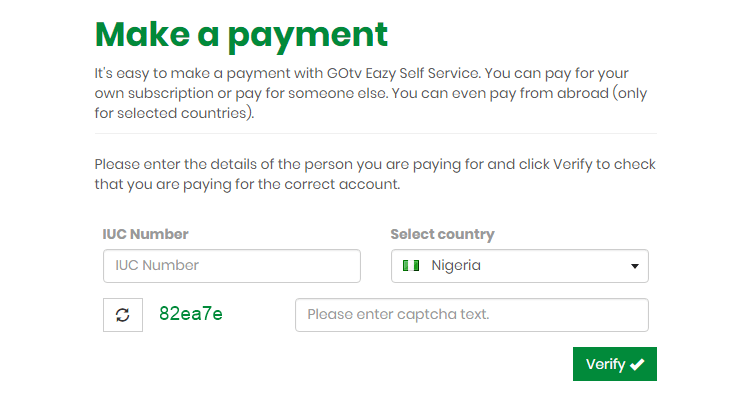 If you would love to buy GOtv decoder or a purchase directly from the company to avoid extra cost from third party dealers.
Offline Multichoice Branches/Offices
Alternatively, you can also walk to any any nearby Multichoice to pay for your GOtv packages and renew your subscription at your local Multichoice branches nearer.
How To Contact GOtv In Nigeria
If you need more information, use the contact details below to get in touch with GOtv.
Multichoice Nigeria
MultiChoice Nigeria Limited, Plot 1381, Tiamiyu Savage Street, Victoria Island, Lagos.
Tel: +234 803 904 4688
Email: [email protected]
Thank you for making Nigeria Insider the number information website from Nigeria and we have every update for you — about Entertainment in Nigeria, Celebrities Net worth in Nigeria, Business in Nigeria, Business plans, Farming in Nigeria, Guides in Nigeria, Health & Food in Nigeria, Lifestyles in Nigeria, how to apply for Loans in Nigeria, Salary structure and much more.
Source: Nigeria Insider