What is Sinach's net worth? This question has been asked by some section of the Nigerian youth. We thought it important to get all the questions answered in regard to Sinach net worth in 2021.
In this article we are going to give you a complete information about Sinach's source of income.
Sinach is a Nigerian gospel singer, song writer, performer and a worship leader with the Believer's Loveworld Church.
She is one of the most influential gospel musicians in Nigeria and on the continent. Her songs have had airplay worldwide in major churches and during live worship sessions. Hillsong, Michael W Smith, Bethel Music, Leeland and several others have featured her song (s) during live worship as well as several other singing bands in and outside Nigeria.
This shows how impactful her songs are and how far they can travel.
Is she really earning from her crafts? The answer is yes. Sinach has made a lot of wealth from actively being a musician over the years.
---
About Sinach
Known in real life as Osinach Kalu Joseph, Sinach was born on 30th March, 1973. She hails from Ebonyi State in Eastern Nigeria.
Early Life
She grew up in a family of 9, being the second child among seven children. According to the musician, she started singing from her childhood days in public places and large crowds.
She actively was involved in music when she joined the church choir and started working as an administrative staff in the church she attends.
During her stay in the choir, the head Pastor, Pastor Chris Oyakhilome promoted her to senior worship leader after seeing the talent in her. She was later developed as an international worship leader under the Loveworld Record, a music record label under the Christ Embassy Church.
---
Sinach's Net Worth
She is estimated to be worth a million dollar ($1 million) as of 2021. This makes her one of the richest gospel musicians in the world.
Sinach's source of income
She makes most of her money from music business and career. She actively makes money from her music.  She has more than one hundred (150) songs to her credit, has won several local and international awards, and 9 albums to her credit
As an active musician, Sinach earns money from album and song sales, performances, endorsements, YouTube Video advertisement revenues, live performances, musical concerts, tours and other undisclosed sources.
Since 2017, she has toured over 53 countries inclusive of USA, UK, Brazil, India, Canada, Australia, Barbados, Seychelles, and many more. These tours are expected to make her a lot of money.
Lifestyle
Education
She has a degree in Physics from the University of Port Harcourt in Nigeria.
---
The family of Sinach
She is happily married to Mr. Joe Egbu since 2014 with a daughter. See picture of Sinach's family below.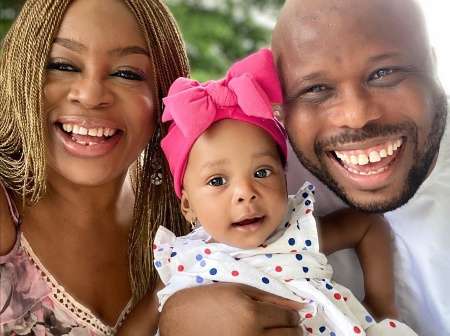 ---
Awards
She's won several awards, both local and international ones. She recently won the Song of the Year award in the just ended Nigeria Dove Awards.
Below is a list of albums she's released so far.
| | |
| --- | --- |
| AWARD | YEAR WON |
| Chapter One | 2008 |
| I'm blessed | 2010 |
| Shout it Loud | 2012 |
| From Glory to Glory | 2012 |
| Sinach at Christmas | 2013 |
| Sinach Live in Concert – The Name of Jesus | 2014 |
| Waymaker – Live | 2016 |
| There's an Overflow | 2018 |
| Great God (Live in London) | 2019 |
Source: Nigeria Insider